Yesterday I visited the National Gallery of Victoria here in Melbourne, Australia to see the Andy Warhol and Ai Weiwei exhibition. What a place for finding inspiration! I hadn't gone with that intent, but I walked away inspired. Here are the things that I found compelling.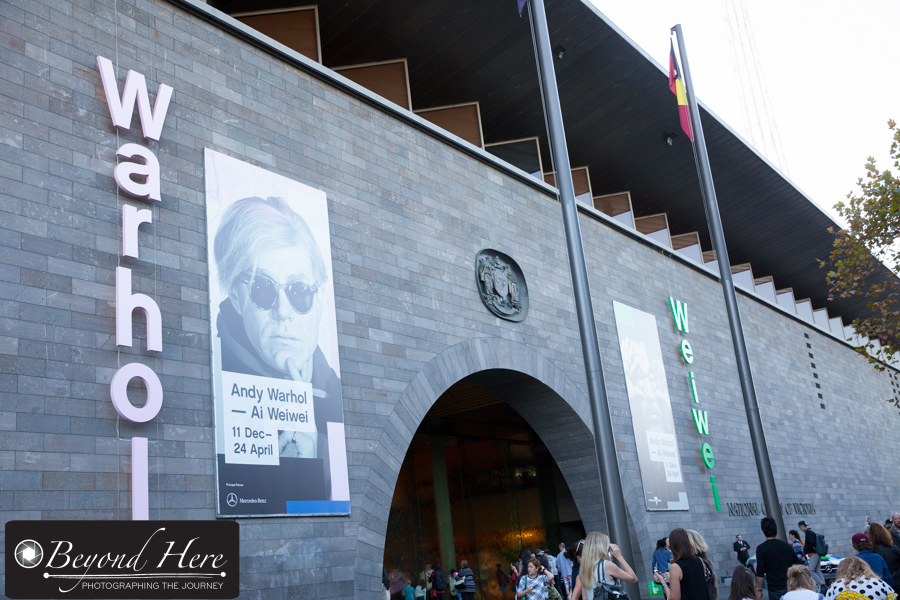 The work. There was a huge volume of work on display. The exhibition was spread across different rooms, each laid out with a different theme and displaying work from both artists. Here was two bodies of work built over years of these artists expressing their creative vision. Sometimes I see photographers dipping into the photography and the business of photography – it was clear from the body of work on display that these artists were dedicated to art and expressing their vision. They worked at it. They kept coming up with new projects. They made those projects come alive. Again and again.
The medium. It was really interesting to see the different mediums used by these 2 artists. There were photographs, sculptures, video material … the list goes on. It was fascinating to see work by artists who were not defined by a single medium. They worked across a range of mediums to express their vision.
The crowd. Yesterday was the last day of the exhibition and it was inspiring to see that the gallery was completely full of people. Sometimes I hear photographers making excuses that people aren't interested in printed products any more, that some how the digital age had brought that to an end. Yesterday I saw hundreds of people who had traveled out of their way, and paid to get in to see a range of real artistic projects. Cool people looking at cool art, in big numbers.
The building and architecture. I have been to the gallery before, but haven't been influenced by the building architecture and design as much as I was yesterday. After coming through the entrance there is a huge artwork made of bicycle frames. It is very cool. It is visible from most of the escalators which snake up through the building giving really interesting angles of this artwork.
The artists influence. It is inspiring to see the mainstream influence these artists had or have. Andy Warhol is well known and his work in the 60's and 70's particularly has had a big impact on American culture. Ai Weiwei is still influencing Chinese culture and society. How very cool that the Chinese government shut down his blog, so he turned it into a printed book containing all his previous blog posts. I haven't read the book yet, but it is now on my list of books to read.
How is this relevant to your photography business? To me, seeing a great exhibition like this is inspiring. It is most useful to photographers who are going through tough times to know:
Art is appreciated by huge numbers of people. If you are struggling to find clients, it is the message you are presenting not the absence of potential customers. Seeing hundreds of people at yesterday's exhibition was a great reminder for me.
Art touches people. Your art might not touch people on a national or international stage, but it will touch your clients. If you've ever presented wedding images and had the bride or the bride's mother in tears of happiness looking at the images you've created – you will know what I mean. Remember when you are creating and presenting images, the images are very important to your client.
There's many different ways to success. Hearing and seeing the different stories of these two artists was another reminder that each artist finds different ways to express their work. And so it is in the business of photography. There is no single, sure-fire way to success. There are definitely common elements, but each photographer is getting there in their own unique way. Don't try to copy others path to success, focus on creating the one that suits you.
Thanks for reading, Finding Inspiration.